S P I R I C O M
An Electromagnetic-Etheric Systems Approach to Communications
with other Levels of Human Consciousness
---
Page 92
LET'S KEEP THIS BREAKTHROUGH IN PERSPECTIVE ...
In April 1982. SPIRICOM research is precisely where airplane research was in 1902, just a year before powered flight became a reality -- even if that first flight lasted only 12 seconds and covered only 120 feet!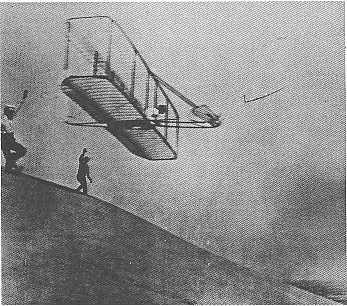 | | |
| --- | --- |
| | Orville Wright accomplished flight by using his BODY ENERGIES to "warp" the surfaces of the glider which carried him through the air. |
| | Our Mark IV seems to be using MIND (?) and/or PSYCHIC (?) ENERGIES to "warp" the electromagnetic - etheric energy fields in which we and our "deceased" fellow researchers are enmeshed and in which they, as well as we, are very much alive. |
| | As did the two Wright Brothers, the few men associated with Metascience Foundation have made the fruits of their research available without charge to inventors throughout the world. |
| | Who is there to say that the Metascience "objectives" printed on the back of the "Many Mansions" diagram are any more of an "impossible dream" than that which burned in the heart of the Wright Brothers? |
---
You are visiting our website: W

rld ITC.org To reach our homepage click here please.