Adolf Homes, Germany
---
Some contacts of Adolf Homes
| | |
| --- | --- |
| Adolf Homes and his wife Rosi | Experimenter Adolf Homes has received a number of important messages from Dr. George Jeffries Mueller, a NASA scientist who died in 1967, participated in the pioneering Spiricom experiments of William O'Neil and George Meek in the early 1980s, then showed himself on a German television in 1991. Following is a three-part message from Doc Mueller received in the autumn of 1993 in the computer of experimenter Adolf Homes, Rivenich, Germany: |
Doc Mueller, September 20, 1993:
This is George Jeffries Mueller through computer in Station Rivenich. Everything that makes up life on your planet is active in all dimensions. These dimensions are countless and each one is part of the total action of Physical, but predominantly psychical processes. The physical and the spiritual structures turn out to be small forms of energy which in turn are hardly recognized by still finer forms. Yet, all forms of energy are universally connected with each other, though many of them are not aware of it. The mind and consciousness of man is only able to concentrate on basic goals. Spirit life however, regardless of its form, constitutes a certain cosmic reality. Of this reality I can speak only little, since its concepts are not part of your thinking.

Doc Mueller, September 21, 1993:
George Jeffries Mueller continuing through computer in Station Rivenich. As you know, spirit is eternal. The line of evolution of human life urgently needs change. It does not get lost and if necessary will exist in another form. No information about this subject can be passed along to you. In your good book this process is to be understood as eternal life. For us, your life means probabilities in an omnipotent, timeless reality. The physical brain is unable to conceive these things, although each thought is established in cosmos and each one of your actions takes place simultaneously, and infinitely, often, somewhere else. What you understand as your soul exists in close relationship in many other dimensions and worlds simultaneously. The entity establishes his/her religion which is born mostly out of fear and uncertainty and out of ignorance.

Doc Mueller finishing this three-part contact, September 22, 1993:
George Jeffries Mueller continuing through computer in Station Rivenich. A belief in things of positive nature will create only the positive. A belief in nothing creates very little. We create our concept of the omnipotent principle on the basis of individual reasoning, knowledge and probability. Many people have a cruel God, for they do not want to recognize the Light. The Light as we see it and as it is known to many of you, represents the source of wisdom of all creation. A concept of God makes sense as long as the fruits of this concept are positive. Otherwise religion makes no sense. The God of reality can be described neither by our words nor by your words. The being whose name was Franz Schneider on Earth will announce himself at different locations simultaneously. Remain positive in your attitude. It will make further cooperation possible.
---
Homes gets more contacts from deceased colleagues
Adolf Homes of Rivenich, Germany, has reported contacts from German experimenters Klaus Schreiber and Hans Bender, both of whom made their transition to spirit within the last ten years.
1994, January 31, computer text:
KLAUS SCHREIBER TO ALL FRIENDS OF ITC. I CAN NOW CONTACT HOMES. WE (the Schreiber family) ARE ALL TOGETHER AGAIN. ROBERT (my brother) DRIVES A MOTORCYCLE AGAIN AT A SPEED THAT IS UNIMAGINABLE TO YOU. YOUR WORLD IS SAD. THERE IS NO PURPOSE IN MISERY, GRIEF, FEAR, PAIN, DEATH . . .

CONTACT KLAUS. RADIANCE CONNECTS EVERYTHING. THE AIR IS PURE. I ALWAYS HAD PROBLEMS ON EARTH. DO NOT ASK ME WHY THIS IS SO. WE DO NOT KNOW THE ANSWERS. EVEN A VOID EXISTS, FOR THE CONCEPT HAS A FORM. DEAR FRIENDS, GOING TO COME THROUGH RADIO. TOO BAD, MANY OF YOU WILL NOT BELIEVE IT. SO LONG, KLAUS SCHREIBER IS GREETING HIS CIRCLE OF FRIENDS.
Note: Klaus Schreiber suffered from asthma during his lifetime, and his deceased brother Robert was an enthusiastic motorcycle racer.

1994, February 24:
THIS IS DR. HANS BENDER FROM FREIBURG. I WOULD LIKE TO GIVE A FEW EXPLANATIONS ABOUT MY MOMENTARY WORK. I WOULD LIKE TO EMPHASIZE THAT PARAPSYCHOLOGY SHOULD BE VIEWED THROUGH A PAIR OF BINOCULARS. PLEASE TELL MR. GRUBER, MR. BAUER OR MR. LUCADOU THAT THE PSYCHOLOGY OF MANKIND IS GETTING INTO IRRATIONALITY. THE FUNDAMENTALS ARE NOT RIGHT. THEY LACK A PARALLAX OF SIZE AND DIVERSITY. I REALIZED THIS TOO LATE WHEN I WAS ON EARTH. THE DANGERS OF YOUR PRESENT WORK ARE IDENTICAL WITH THE RESULTS OF THE WESTERN CHURCH. FREE YOURSELF FROM THE RIGID CONDUCT OF TRADITION AND OPEN YOURSELF TO THE NEW FORMS OF PROBABILITY, A TRUE SYSTEM WHICH I AM GETTING TO KNOW NOW.

GREETINGS TO ALL SCIENTISTS WHO ARE VERY SERIOUS ABOUT THEIR WORK. DEAR FRIEND ELMAR, YOU HAD FOREBODINGS. THIS IS HANS BENDER.

1994, March 7:
THIS IS HANS BENDER FROM FREIBURG. DEAR COLLEAGUES AND FRIENDS, THERE IS NO POSSIBILITY OF COMPUTER STORAGE HERE. CONTINUING INSTRUMENTAL CONTACT.

YOUR SYSTEM OF REALITY IS ONE OF COUNTLESS OTHERS. ALL ARE HAPPENING AT THE SAME TIME. THE "FREQUENCY" OF OUR OWN REALITY IS SO SHORT THAT IT CANNOT BE PERCEIVED BY YOU. IT IS FAR OUTSIDE THE RANGE OF ELECTROMAGNETIC WAVELENGTHS AND HAS NOTHING TO DO WITH IT ANYMORE. THE REAL SYSTEM OF ALL BEING CONSISTS OF THE CONTINUOUS CHANGES OF ALL CONSCIOUSNESS. THIS FACT IS THE FOUNDATION OF THE DIFFERENCES IN LOGIC AND MAKES COMMUNICATION WITH YOU AND WITH OTHER LIFE FORMS MORE DIFFICULT.

PLEASE, DO NOT VISUALIZE THAT WE EXIST ABOVE YOU SUCH AS IN "HEAVEN." THE CONCEPTS "ABOVE" AND "BELOW" ARE PRODUCTS OF YOUR MIND. THE SOUL DOES NOT SWING UPWARDS. IT EXISTS IN THE CENTER AND ORIENTS ITSELF IN EVERY DIRECTION.

BECAUSE OF THE MANY DIMENSIONS OF FORMS OF THOUGHT WHICH YOU CAN ALSO PUT INTO PHYSICAL FORM, YOU HAVE THE POSSIBILITY TO CREATE MUCH WHICH WE CANNOT FASHION IN THE SAME MANNER. INSTEAD, WE ARE GIVEN MANY OTHER ALTERNATIVES.

THINGS YOU CREATE WITH YOUR MIND ARE ALWAYS PART OF YOUR POSTMORTAL LIFE WHETHER THEY SEEM REAL OR NOT. THIS IS ALSO TRUE OF YOUR RELIGION. YOU SHALL ALWAYS FIND WHAT YOU CREATED IN YOUR MIND, FOR INSTANCE, A BENEVOLENT GOD OR AN EVIL DEVIL. BETWEEN THEM ARE COUNTLESS FACETS. THEREFORE CONCENTRATE ON THE DEPTH OF YOUR CONSCIOUSNESS AND ON WHAT YOU CONSIDER POSITIVE AND GOOD.

GOOD AND EVIL DO NOT EXIST FOR ME ANYMORE. THE FEAR OF EVIL IS MERELY A MASS PROJECTION HERE AND ON EARTH. THE CORE OF MY PERSONALITY CONSISTS OF MANY SELVES. ONE OF THEM IS AT THIS MOMENT SPEAKING TO YOU IN RIVENICH. BECAUSE OF THIS I HAVE A MUCH GREATER PSYCHOLOGICAL EXPERIENCE AND THE FORMS OF MY AWARENESS ARE RICHER THAN YOURS.

HERE, IN WHAT YOU REFER TO AS THE BEYOND, I AM DEALING WITH BEINGS WHO NEVER LEARNED TO READ OR WRITE ON EARTH AND YET HAVE MORE KNOWLEDGE THAN MOST OF YOU. THEY LIVED IN AUSTRALIA AND BRAZIL.

HANS BENDER GREETING ALL FRIENDS AND PEOPLE. END OF CONTACT.

1994, March 8:
THIS IS "SPOOK BENDER." (Hans Bender was known in Freiburg/Germany as "the Spook Professor" because of his dedication to the subject of life after death.) FIVE, TWO, ONE, NINE, ZERO, SEVEN (5/2/1907 is Hans Bender's birthday). I WILL START WITH A FEW DETAILS AS A MEANS OF IDENTIFICATION.

DEAR FRIEND, I SHALL TRY TO LET ALL MOMENTARY EXPERIENCES ENTER YOUR PSYCHE. I SHALL TELL YOU LATER WHY YOU ARE SUITED. THERE SHALL BE NO PRETENSION . . . .

DEAR FRIEND, ALL YOUR EXPERIENCES ARE ENCODED MESSAGES. FEW THINGS HAPPEN BY CHANCE. MY SEARCH FOR YOU WAS NOT SYSTEMATIC ENOUGH. DO NOT WORRY, I SHALL NOT COMPLIMENT YOU, BUT YOUR SOUL IS SIMILAR TO MINE. WHEN I AM FINISHED WITH YOU, IT WILL ALL BE CLEAR TO YOU.

SURREALISM IS PRESENT HERE AND THE FREE UNFOLDING OF CONSCIOUSNESS IS IMPORTANT. THE SOUL HAS NO CONCEPTION OF GOOD OR EVIL. THE CURIOSITY OF MY CONSCIOUSNESS SWITCHED MY INTEREST FROM LAW TO PSYCHOLOGY. IN SPIRIT, I AM ALSO SUBJECT TO THE LAWS OF NATURE AND I AM WORKING ON FURTHER PHENOMENA WHICH HAVE NOT YET BEEN REVEALED TO ME. THE FIRST STEP SHOULD ALWAYS BE THE EXPERIENCE OF THE REAL SELF. I SHOULD HAVE STAYED IN BERLIN. I WOULD NEVER HAVE BEEN SO CLOSELY ASSOCIATED WITH THE SPOOK PHENOMENA. YOU HAVE THE SPIRIT POTENTIAL OF MY FATHER AND MYSELF. I HAVE BEEN UNABLE TO FIND MY FATHER SO FAR.

DEAR FRIEND, WE HAVE THE INFINITE LOVE FOR OUR MOTHERS IN COMMON. THEY ARE TODAY STILL THE PEOPLE WE TURN TO. ALICE (Bender's mother) AND KAROLINE (Homes's mother and ITC spirit partner) ARE FRIENDS. I AM TOGETHER WITH FRIENDS FROM WIERE (part of Bender's hometown Frieburg). EVEN KARL FROM ZILLARTAL LIVES HERE WHO MOSTLY MAKES FUN OF ME.

MY FANATICISM ABOUT THE PARANORMAL ALMOST COST ME MY LIFE (as a parapsychologist Bender had been involved in a confrontation with the Gestapo in June 1941). EVERY ONCE IN AWHILE I FIND MYSELF IN THE BLACK FOREST (where he had loved to walk while on Earth). EVERY TREE DIFFERS FROM THE NEXT AS THEIR SOULS ARE DIFFERENT. PEOPLE WHO CANNOT BELIEVE THIS CANNOT BE HELPED. GIVE MY GREETINGS TO MR. SENKOWSKI, MY FRIEND ELMAR AND TO ALL PEOPLE. WHY ARE YOU LOOKING FOR THE LIVING AMONGST THE DEAD?
---
Adolf Homes gets contact with Thomas Becket
In March 1994 Homes entered into his computer a request from fellow experimenter Jochem Fornoff, who wished to receive an ITC contact in Darmstadt. At 1:10 a.m. on March 7 Homes's phone rang twice to alert Homes, then his computer printed out the following message:
1994, March 7:
THIS IS THOMAS BECKET OVER COMPUTER. DEAR FRIENDS IN DARMSTADT, WE WHO ARE CONSIDERED DEAD THANK YOU FOR YOUR POSITIVE AND SIGNIFICANT EFFORTS. THERE ARE MANY POSSIBILITIES TO MAKE CONTACT. THE UNIVERSE BASICALLY CONSISTS OF ETHEREAL AND MATERIAL MUTUAL EFFECTS WHICH ALWAYS MAINTAIN UNITY. MANKIND IS BECOMING MORE AND MORE CONSCIOUS OF THIS REALITY. IT IS THIS CONSCIOUSNESS WHICH ACTS AND CONNECTS THE INDIVIDUALITY OF A PERSON AND HIS SOUL. IN SPITE OF NEGATIVE HAPPENINGS, ALL LIFE IN ALL DIMENSIONS IS CONCERNED WITH INNER AWARENESS. YOUR OWN WORK IS VERY IMPORTANT TO YOU.

FROM THIS VIEWPOINT IT IS NOT AS IMPORTANT TO US TO SEND OR RECEIVE PARANORMAL MESSAGES AS IT IS TO YOU. HOWEVER, SINCE YOU GOT STARTED, YOU WILL SOONER OR LATER BE COMMUNICATING WITH US ACOUSTICALLY. WHICH METHOD YOU WILL BE USING DOES NOT MATTER. YOU CAN HAVE MORE INFLUENCE OVER THIS THAN WE, SINCE YOU WORK WITH MIND AND MATTER.

DEAR MR. FORNOFF, A DIRECT VOICE CONTACT AS WE BUILT UP IN RIVENICH WITH THE HELP OF ADOLF HOMES DOES NOT ONLY CONSIST OF ACOUSTIC SIGNALS. IT IS HIDDEN IN AND BORN OUT OF THE ENTITY'S CONSCIOUSNESS AND SERVES THE UNIVERSALITY OF ALL BEINGS.

THOMAS BECKET SENDS GREETINGS TO MR. FORNOFF AND THE CIRCLE OF FRIENDS IN THE DARMSTADT AREA AND THE CITY OF MAINZ.
---
Some pictures Adolf Homes received:

George Jeffries Mueller


Friedrich Juergenson
received on: 13 October 1994


Seth 3
---
Friedrich Malkhoff and Adolf Homes worked closely together - so please have a look at the results presented by Friedrich Malkhoff in this section.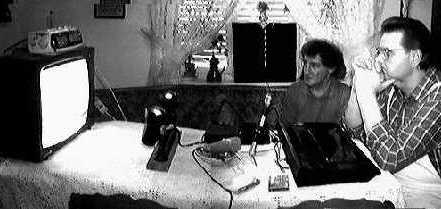 Friedrich Malkhoff (left) and Adolf Homes (right)
---
You are visiting our website: W

rld ITC.org To reach our homepage click here please.